Eye Care Center West is pleased to offer a wide range of optometric services, eye care products including eyeglasses, specialty eyewear, frames, and contact lenses. Our staff is happy to help however we can.
From your first contact with us to your appointment and your follow-up, we aim to make your eye care experience great. This is what drives us to provide you with the best care year after year!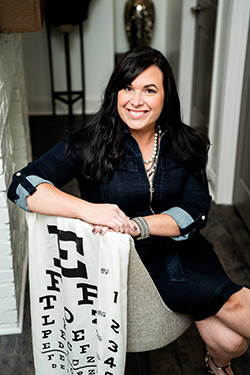 Shauna Lushko, O.D.
Optometrist
Dr. Shauna B. Lushko completed her optometric education at the Illinois College of Optometry in 2007. She advanced her training by accepting an ocular disease residency at the Cleveland VA Medical Center. Dr. Lushko specializes in management of glaucoma, macular degeneration, dry eye, acute eye conditions and pre/ post-operative care of cataract, SLT, and LASIK surgeries. Dr. Lushko's past clinical experience includes serving as Clinical Director at TLC Laser Eye Centers in Sewickley, PA. She is an avid supporter and advocate of the Western PA Optometric Society (WPOS). She has served as treasurer on the board since 2012. Due to her dedication to her patients and profession, she was awarded, "Young Optometrist of the Year" in 2017 by the WPOS. Dr. Lushko was recognized as one of Newsweek's Top American Eye Doctors in the July 2021 edition in which she ranked 79th of all Optometrists nationwide.
Dr. Lushko takes tremendous pride in the care of every patient and she is passionate about educating them on preventative eye care. It is her mission to provide superior and personalized vision care services by the use of the most advanced state-of-the art diagnostic technology and eye care products. Dr. Lushko looks forward to building a rapport with each patient and developing lifelong relationships.